Things to consider when buying or renting a property in the Isle of Man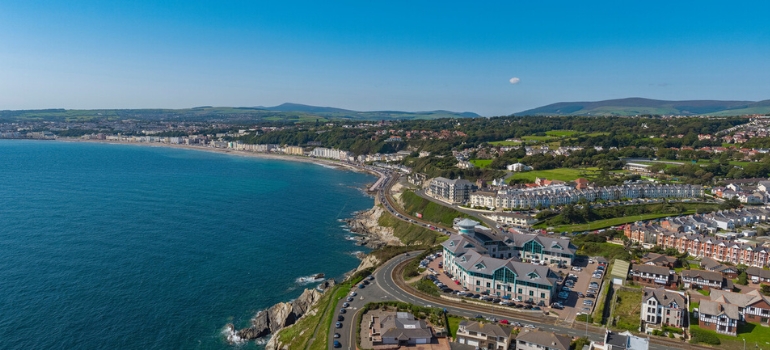 Ranked as the best place to live in the British Isles, the Isle of Man has no property restrictions, and is home to a diverse range of properties across a variety of vibrant towns and scenic villages.
Covering everything from jobs and lifestyle to the logistics of moving, the Locate Isle of Man website and team are a fantastic resource for anyone considering a relocation to the Isle of Man.
Towns & Villages
Measuring 33 miles long, and 13 miles wide, the Isle of Man is home to a diverse set of towns, villages and parishes.
On the east coast, you'll find Laxey and Onchan, both offering short commute times and regular public transport into the capital, Douglas. The capital, which was recently granted 'city' status, sits on the eastern waterfront and is home to a bustling business and financial sector. It is the most populous area in the Island and is home to countless independent eateries and retail outlets. Near the city centre, you will find beautiful Victorian row homes and apartments, while traditional, larger houses sit on the outskirts.
The southern part of the Island is home to some of the best beaches and scenic spots, with residential areas based around the old fishing towns of Port Erin, Port St Mary, and Castletown. The growing town of Peel on the west coast of the Island boasts some of the most idyllic sunsets, a vibrant harbour and promenade and newly developed estates, which have plenty of contemporary properties on offer. In the north of the Island there are smaller villages outside of the main town of Ramsey, such as Kirk Michael, Jurby, Andreas and Bride, which are perfect for individuals looking for a quieter, more rural property. 
Properties
The average house price in the Isle of Man is £313,036. Those looking for a new home will find a diverse range of properties available including apartments, bungalows, traditional terraced, semi and detached houses as well as quaint Manx stone cottages and large premium country and coastal properties.  So, whether you're looking for a terrace apartment in the town centre or a quiet property with ample land, the Isle of Man has something to suit all tastes.
Estate Agents 
With on average 900 properties sold a year on the Island, there are over 15 local professional and experienced estate agents, property rental agents and property developers that service both the commercial and residential property market. 
With a number of different residential areas dotted across the Island, offering a variety of amenities and communities, there are also a number of short term lets available, perfect for relocating individuals and families looking to explore the Island before committing to a longer term option.
UK Comparison
The Isle of Man complies with the UK's Estate Agents Act 1979, which means the Island's property market operates to the same laws and standards as the UK. The major difference is there is no stamp duty on the Isle of Man, and unlike its Crown Dependencies counterparts, there are no property restrictions – so you can start searching for your dream home today!
If You're Relocating To The Island
There's a great choice of local removal companies who specialise in UK, European and international collection, and delivery. They can liaise with your movers, organise the entire experience and even offer online tracking of your belongings as they travel to the Island.
The Isle of Man Steam Packet Company makes moving your things a lot easier and cheaper and is a great option if you are moving from the UK, Europe, or Ireland, with a daily ferry service operating from Heysham (Lancashire), Liverpool, Dublin, and Belfast. Drive your car or van on board and relax as you journey to your new home. You can even arrange for larger transport vehicles and vans to carry your belongings.
Most dogs and cats can journey between the Isle of Man and Great Britain without export certificates and can travel freely via the Isle of Man Steam Packet Company ferry service. If you're moving from outside of the EU, certain regulations and restrictions may apply to the importation of pets into the UK and onward to the Isle of Man. More information can be found on the UK Government website.
For further information on the Isle of Man property market, towns and villages and relocating, visit the Locate Isle of Man website.