SPRING CLEANING CHECKLIST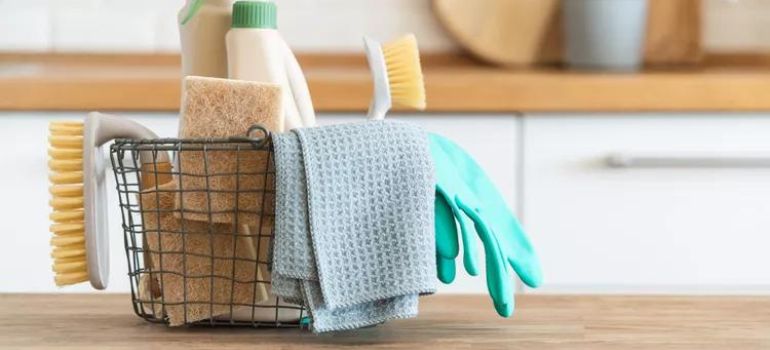 10 steps to refresh your home this Spring
1. Clean Baseboards
Spring cleaning is the perfect time to clean your baseboards  "Although they're often overlooked, clean baseboards give your home the perfect finishing touch. Baseboards can be easily cleaned with a vacuum with a bristled brush hose attachment to remove any dust; then, wipe them down with a damp micro fiber cloth and all-purpose cleaner.
2. Dust
No matter how much you try to prevent it, dust builds up in every room of the house. When dusting, work from the top of a room down, vacuuming the dust that settles on the floor. This includes hard-to-reach places, such as the tops of ceiling fans and window casings.
Don't forget to also dust your books and bookshelves. Take everything off the shelves, and brush them (along with the books) with a feather duster. Use the dust brush or crevice tool on a vacuum to reach into tight spots. Wipe the spines of leather-bound books with a clean, soft cloth.
3. Vacuum
Go over all of your floors with a vacuum to get up any crumbs and loose dirt. "It's common to track the bacteria and dirt from your shoes across the carpet," says Stapf. "Not only can a buildup of grime break down your carpet fibers, but it can also harbor pollutants that may make you sick."
4. Mop
Although you likely already mop your floors regularly, it's a chore you should also add to your spring cleaning checklist. "Floors are one of the most exposed areas in our homes, which is why mopping them frequently is crucial in keeping your home clean" says Diane Amos.
5. Shampoo Rugs
Synthetic carpets and rugs with waterproof backings can be deep-cleaned with a rotary shampoo machine and a hot-water extraction machine. Rugs without backings, including Oriental rugs, require professional cleaning.
6. Wipe Walls and Ceilings
Overtime our walls and ceilings build up with unwanted marks. To clean them, start by using a vacuum to remove dust. Next, tackle stubborn surface grime, especially prevalent in kitchens, with a solvent-free degreaser (test it first in an inconspicuous area to ensure it won't mar the surface).
7. Reseal Grout Lines
The cement-based material between wall, floor, and countertop tiles is extremely porous and stains easily. Protect it with a penetrating grout sealer—it's best to apply it with a small foam brush.
8. Clean Upholstered Furnishings
Take cushions outside and gently beat them by hand to remove dust. If there are stains, check the pieces for care labels. Use a vacuum's upholstery and crevice tools to clean under seat cushions.
9. Polish Metal Door and Window Hardware
Return dull knobs, hinges, and other metal finishes to their former glory with a quick polish. Liquid polishes and polish-impregnated cloths work well for medium-tarnished surfaces, while pastes and creams are best for heavier work.
10. Wax Surfaces
Wipe wooden surfaces with a soft cloth dampened with water and mild dishwashing liquid. Apply paste wax a few feet at a time with a cotton rag folded into a square pad. Let the wax dry; buff with a clean cloth.